The winter of 2002-2003 was a hard one here in the mid-Hudson River Valley. Several snow storms and ice storms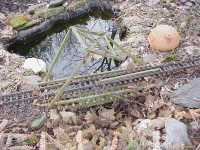 deposited heavy amounts of the white stuff on the O&GRR. The railroad survived quite well.... the only major catastrophe was the destruction of the bridge over the inlet of the Mill Pond.
This page will chronicle the building of the new bridge. The materials are on hand: red cedar lumber, brass rods, brass nuts and washers, all are stockpiled and ready for construction.
The design of the bridge has been simplified by George Schreyer at Howe Truss Bridge. Pictures and progress reports will be posted here as the new bridge takes shape.