FCC proposes two
new amateur bands!

Good news for ham radio this week! FCC has proposed going along with ARRL's request for a new domestic (US-only), secondary HF allocation at 5.25 to 5.4 MHz. The FCC also is ready to permit operation on a 136-kHz "sliver band" in the low-frequency (LF) region. And, in response to a third ARRL request, the FCC has proposed elevating Amateur Radio to primary status at 2400 to 2402 MHz.

"I'm just as tickled as I can be," ARRL President Jim Haynie, W5JBP, said upon hearing the news. "This is a classic example of our ARRL at work."

The FCC voted unanimously May 2 to adopt the Notice of Proposed Rulemaking in ET Docket 02-98. The Commission released a Public Notice May 9, and the NPRM is expected to be released soon. A comment deadline will be announced as soon as it's available.

The FCC said the new 5-MHz band would help amateurs "better match their choice of frequency to existing propagation conditions." The band, if approved, would be the first new amateur HF allocation since World Administrative Radio Conference 1979 gave amateurs 30, 17 and 12 meters--the so-called "WARC Bands." Assuming the 5-MHz band eventually is authorized, it could be a few years before it actually becomes available.

The League said its successful WA2XSY experiments demonstrated that amateurs can coexist with current users and that the band is very suitable for US-to-Caribbean paths. In comparisons with 80 and 40 meters, the WA2XSY operation also showed the 60-meter band to be the most reliable of the three. The ARRL also argued that a new 150-kHz allocation at 5 MHz could relieve periodic overcrowding on 80 and 40. From ARRL Newsletter

Rip Van Winkle Amateur Radio Society
VITAL STATISTICS

President — Wayne Gearing K2WG
Vice President — David Clapper WA2FTI
Secretary — Erika Goetz KC2DMI
Treasurer — Stan Engel WA2UET
Historian — Ken Goetz N2SQW
Newsletter — Dave Watrous WD2K
Interim Newsletter — David Clapper WA2FTI
E-mail — dclapper@valstar.net
Repeaters — 147.21 222.24 449.925
DX Cluster — 145.71 K2RVW
Club Call — Kilo 2 Rip Van Winkle
Web Page — http://wa2fti.tripod.com/rvwars.html

WD2K Awarded Plaque
For Outstanding Service

Dave Watrous WD2K was awarded a Plaque for his years of service to RVWARS as a leader in our Field Day Activities. Dave has always been in the forefront of all Club activities but took a special interest in the operation of Field Day.

Dave's reply to receiving the honor:



Thanks Rippers.
While undeserved the plaque is most appreciated and will be proudly displayed in my shack. Whatever success I have had came about through the hard work and commitment of the club members. It is this spirit of cooperation, friendship and good humor that makes RVWARS the success it is.
I don't know if I will make Field Day this year but the improvements planned for this year are exciting and should make for a great event. Hope to be there and share the fun with all of you.
73
Dave,WD2K



---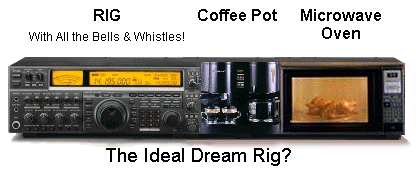 The way the new all-band, all mode rigs are evolving, it's a wonder that a rig such as the one above hasn't hit the shelves at AES and other Ham suppliers! The "Bells and Whistles" of these newer rigs are mind boggling! It hardly seems necessary for one of us to be present (except for the rules!) for a QSO to take place. Load any antenna, transmit in any mode, copy CW, send Slow-Scan TV, make the coffee, cook lunch! What's next? O yeah… transmit without a rig on the internet! Think I'll go warm up my DX-40 and SX-111. WA2FTI