New Technician Question Pool Released

NEWINGTON, CT, Dec 5, 2002—The Question Pool Committee (QPC) of the National Conference of Volunteer Examiner Coordinators has released a revised and expanded Amateur Technician class (Element 2) question pool into the public domain. The new question pool becomes effective July 1, 2003, and must be used to generate all Technician written examinations administered on or after that date.

"The newly revised pool released this week by the QPC includes significant efforts to present the pool in a more friendly and understandable fashion for beginners while maintaining appropriate emphasis on safety, rules and operating procedures," said ARRL VEC Manager Bart Jahnke, W9JJ. "The Technician syllabus was completely revised during 2002 to allow for the revamping of the new question pool."

The new Element 2 question pool contains 511 questions--up from 385 in the April 2000 release that occurred around the time of Amateur Radio restructuring.

The new question pool, which is available now on the Amateur Exam Question Pool Web page, http://www.arrl.org/arrlvec/pools.html includes all questions and answers as well as graphics related to the questions for Element 2. Question pools no longer are available via diskette or hard copy.

The Question Pool Committee now will turn its attention to developing an outline for the General class (Element 3) question pool, which will be revised during the fall of 2003. The QPC has put out a call for input by January 31, 2003, to the Element 3 syllabus and question pool. "It is our intent to release this revised Element 3 syllabus for public comment in February or March 2003," Neutstadter said.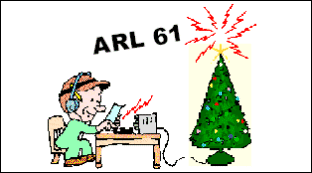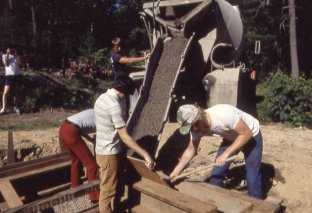 Remember When? RVWARS members are pouring the concrete foundation for the Repeater Building over 20 years ago! Can anyone identify the workers?

Build a QRP Transceiver for $25!
Bill, W3MJ, a former RVWARS member, now escaped to 3-land, has written to tell us about the latest project he has been working on: the Rock-Mite by Small Wonder Labs. It is a "one evening kit" and costs only $25, including shipping!
The Rock-Mite is a crystal-controlled direct-conversion transceiver operating on 7040 KHz, the North American 'watering-hole' for QRP activity, or 14060 KHz for the 20M version.
The little rig is rated at 0.5W of power output at 12V supply. The DC Supply voltage range can be 8-15V. It is fix-tuned, two frequencies ~7039/7040 Khz on 40 meters, or ~14060/14061 on the 20M version. The transceiver has automatic Transmit/Receive with the offset being reversible. It has a built-in Iambic keyer, 5-40 WPM with built in sidetone of 700 Hz.
Bill reports that the kit went together with no problems. There are no coils to wind, everything needed is included in the kit except an enclosure. It just happens to fit in an "Altoid" can, which is available in just about any Super Market or Drugstore.
Here's an opportunity for us "Rippers" to dust off our soldering irons and build something that can be a lot of fun. For more information, visit the Small Wonder Labs web site at http://smallwonderlabs.com/Rockmite.htm